Mortgage Information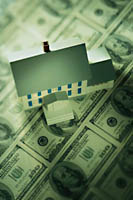 If you're like most buyers, a home is the most expensive purchase you'll ever make, and you'll probably need some form of financing.
There are many lending institutions that offer a variety of mortgage products. Financing options and rates can vary widely, so it is important to do your research and shop around to ensure you get the mortgage that best meets your needs at the best price.
I would be happy to refer you to some very good mortgage contacts I have in Oviedo, or to help you in any other way I can to secure the best possible rate for your home purchase.
Connect to a mortgage calculator below to assist you in making some decisions around financing your new home.
---
Here is one of our trusted brokers we work with in Oviedo :

1st Residential Funding
1755 West Broadway Street
Suite 2
Oviedo, FL 32765
Office: (407)977-5656
Cell: (407)782-3074
www.1stresidential.com


Lynda Danna, President
Vance Maiorana, Loan Officer
Lollie Haddock, Loan Officer
Go to their website to use the mortgage calculator, check it out!
Information and interactive calculators are made available to you as self-help tools for your independent use and are not intended to provide investment advice. We can not and do not guarantee their applicability or accuracy in regards to your individual circumstances. All examples are hypothetical and are for illustrative purposes. We encourage you to seek personalized advice from our qualified professionals regarding all personal finance issues.